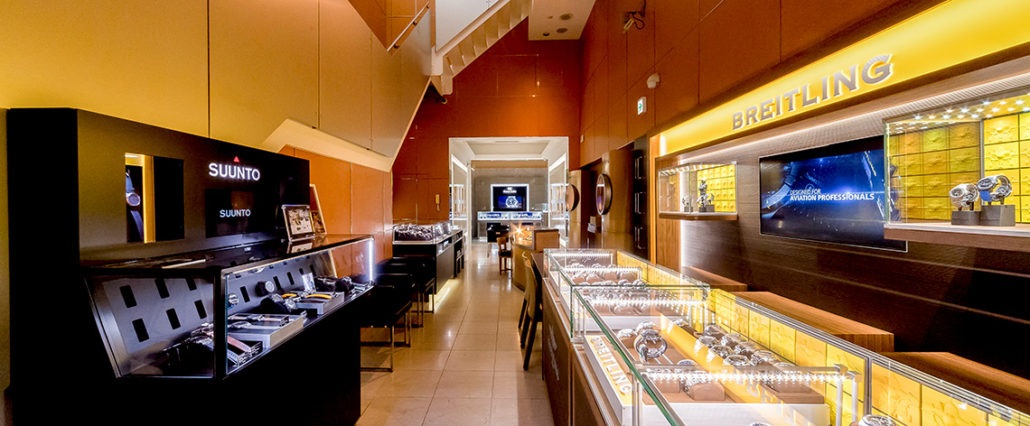 Our flagship shop Takasaki Shop proudly carries over 20 brands, the largest lineup in north Kanto region. Our shop features with a relaxing open ceiling space. As long as your time allows, we offer the space where you can enjoy the world of the finest watches. Our Sendai shop also offers a very selected lineup, and for some of the brands we are the only dealers in Tohoku.
SHOP
HF-AGE TAKASAKI

Takasaki Shop

It offers north Kanto's largest selection with over 20 brands. In the spacious shop with an open ceiling, you can comfortably browse our selection of watches. Also, it's the only dealers for Panerai, Breitling, Tag Heuer, Grand SEIKO and many more in the prefecture.
HF-AGE SENDAI

Sendai Shop

It's the only dealer for Patek Philipp in Tohoku and a specialty shop for authentic mechanical watches such as Panerai, Breitling, IWC, etc. Located 3 minutes away on foot from Sendai Subway Kotodai-koen Station. You can enjoy a variety of watches in a slow and quiet atmosphere.
HF-AGE TAKASAKI OPA

Takasaki OPA Shop

Mainly sells "knot" and "HAMILTON", but also many other brands like EDOX/OSSO ITALY/G-SHOCK. In order for customers to select at ease, the staffs are dedicated to support and answer customer's concern or inquiry sincerely.
HISTORY
1989
Founded the company. Sold watches as well as jewelry goods and tableware.
1992
Opened "HF-AGE Toyooka Shop" in Toyooka, Takasaki, as our second shop, mainly dealing in watches and jewelry goods. Began to dealing authentic mechanical watch brands. From this time, began to sell Breitling in earnest, a brand which became a pillar of HF-AGE later on.
1997
Relocated to "Ara-cho" where our main shop used to be located,
2001
Opened Sendai Shop. Began to carry Panerai for the very first time in Tohoku.
2003
Relocated Takasaski Shop to the current location at 162, Ara-cho, Takasaki. In an open ceiling space, over 20 brands were lined up. Upon the relocation, began to sell Panerai.
2007
Relocated Sendai Shop due to expansion of the business. Along with this, the dealing of Patek Philippe by Takasaki Shop was succeeded to Sendai Shop and became the only shop for its products in Tohoku.
2011
Takasaki Shop started selling Taug Heuer.
2013
Takasaki Shop was promoted to a Grand SEIKO master shop.
INQUIRIES
For inquiries to HF-AGE, please contact the e-mail address below.
info@hf-age.com
NOTES
For watches handled by HF-AGE, we sell only in Japan.
Please be accepted that we don't ship overseas.